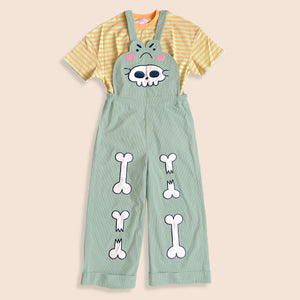 Please make sure you read and understand the shop/shipping policy before placing an order!
Pease do not panic buy! Always double check your detail and if you notice a mistake please contact me ASAP on: yoyothericecorpse@gmail.com
*
BFF collection 
Grumpy frog dungaree 

Features:
Main body is made with green corduroy, 100% cotton - non stretch (The green is somewhere in between pear green and avocado green!) 
Froggo's face is embroidered, his hands and cheeks are completed with patchwork. 

Relaxed fitting

Elastic waistband added for extra stretch 
Side pockets
NO SIDE BUTTONS
adjustable straps
Bones patchwork detail on both legs

There is a tiny hibud hiding on one of the back pocket ;)

Cropped trousers -made to show off socks
Folded edges - can be unfolded to add leg length 
model is UK 8-10, 5'4 tall, wearing size M. My waist is 28.5-29inches and I don't really have a butt🫣
Please note that the overalls does not have side buttons, and the fabric is NON STRETCH which means it's a wiggling in style. So if you are pear shaped (have bigger thighs or buttoms)OR IF YOU JUST HAVE AN AMAZING BUTT!!
You should consider going up a size or two. 
How to measure waist
For example the full waist below for size M is 30 inches, the half elasticated waist adds on approx 2.2 inches on both side of the garment when measuring flat, so the maximum waist size for size M is approx 34.5 inches. 
Please see the measurement table below for guidance:
Measurements are in inches:
CARE (please read before you wash):

Hand wash / spot clean only. Air dry. no bleach. Iron when necessary.